I tend to go a little overboard; ok, maybe a lot overboard with decorating our Christmas trees, but I love doing it and finding unique and new decorations year to year. I usually build on what I have each year. We'll start with the large tree that is in the sitting area. This tree is decorated in pink, lime green, and silver.
This is the tree pre-presents. The picture is a little clearer; it is really difficult photographing lit trees!
Here is another picture of the top of the tree. Can you tell that I love decorating with picks? I have a hard time resisting new picks. The pink ones with the pom poms on the end are a new addition this year.
Let's take a closer look at the tree and hope that we don't have any Clark Griswold surprises ;)
I absolutely love the white peacock that I found at Garden Ridge. Anyone that knows me knows how much I love peacocks.
Here is a closer look at the white tree; some of these ornaments remind me of jewelry, which is right up my alley!
This is the small peacock tree. It is silver and decorated with peacock ornaments that I have collected over the years. I told you I love peacocks!
This is my newest peacock ornament that I found at World Market.
So what do you think; a little or a lot overboard? (Jett, don't answer that.)
Linking up with: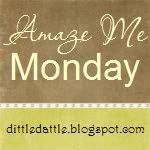 I'll be Home for Christmas on Dec. 12th at
Keeping the Christmas Spirit Alive 365
Debbiedoo's Newbie Party
Motivated Monday at
Be Colorful
Making the World Cuter Monday at
Making the World Cuter
Sunday Showcase Party at
Under the Table and Dreaming
Addicted to Decorating
The Allred Abode
Christmas Home Tour -
The Inspired Room
Home Sweet Home -
The Charm of Home